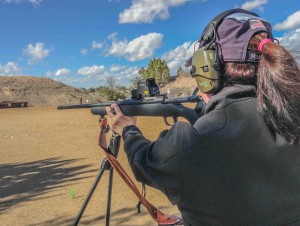 Once again Drema has left me to head off into the wild west for Gunsite Academy. On her travel day she was delayed for about four hours and they lost her luggage. I told her she was seeing what my life on the road is usually like. But, on day two, all the ladies pitched in and she told me she was wearing something from everyone in her class. Luggage arrived late last night so at least now she is well equipped.
She spent the day yesterday shooting her Mossberg ATR Bantam .243 Winchester. This is the rifle she will be using in Africa this summer and Il Ling New is providing the instruction so I'm sure she'll be ready. I'm jealous I'm not there for three reasons: I'm not shooting and I'm not visiting friends at my home away from home. I'm also not eating dinner at the Little Thumb butte Bed and Breakfast which is the ONLY place to stay when you go to Gunsite. Instead, here at Shadlowland, the kids and I are living off of KFC leftovers and other unmentionables.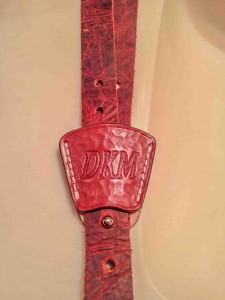 Today Drema and the crew – including my sister – are shooting shotguns so I'm not jealous of that at all. But, what I am most jealous of is that, as part of attending the class, Drema received a custom rifle sling from Barranti Leather. Its called the Peabody Sling and was inspired by Gunsite instructor Il Ling New. Its modeled after the Galco Safari Ching Sling. I was considering the possible covert acquisition of this fine piece of leather when Drema returns home but realized it has her initials on it.
I'd strongly suggest that if there is a woman – or a man – in your life, who likes to shoot or maybe is considering shooting, that you send them to Gunsite (As long as you are not on the possible target list.) It will change their life and they'll owe you. Nothing like someone owing you a favor!
I'll get Drema back; next time I go to Gunsite Academy I'm staying for two weeks. Right now, if you'll excuse me, I have to go do laundry. (Are men really supposed to do laundry?)