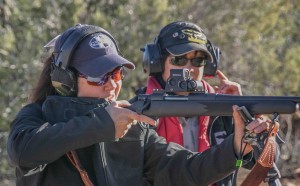 I learned a lot of things the first time I went to Africa, mostly that my first time would not be the last. On subsequent trips I mostly learned that one of the best things about going to Africa is going with someone you know who has never been. Watching a friend see Africa for the first time is a treat. So is getting to hear their daily adventures around the campfire at night.
This summer I'll get to do that with a special person, my wife. Drema has deer hunted the last two years but has not pulled the trigger yet. She's had some encounters – like a buck at 15 feet on her first day – but as things often go in hunting, it did not play out. A friend of ours got a killer deal on a South African safari and we signed right up.
I'm ready but needed to get Drema ready so the logical thing to do was send her to Gunsite for some quality training. Yeah, I know, she is married to a former firearms instructor who has done a lot of trigger pulling in a lot of places, but there are some lessons best taught without the interference of the complex interpersonal relationship between a husband and wife.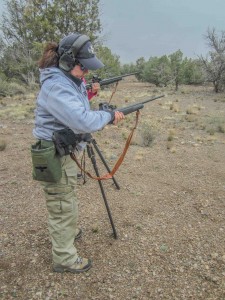 Last week Drema took the rifle – a Mossberg in .243 Winchester –  she'll be taking to Africa, to Gunsite. She worked with an expert educator on learning how to operate it and how to hit critters in the field. Some additional practice this spring here at Shadowland will finish off her pre-hunt preparation and in late June I hope she is entertaining us all with her hunting stories around a campfire under the Southern Cross.
Women are the fastest growing segment of the firearms community. Some are joining because they want to be able to protect themselves and others are joining because they want to hunt. What we are seeing is that once bitten, these ladies learn what a lot of guys have known for a long time and that's that guns can be fun.
What I've learned is that maybe its best to let these ladies have their gun fun to themselves sometimes. Drema and some of her friends from all over the United States participate in an annual pilgrimage to Gunsite. They go to learn, to shoot, to eat and drink wine. And, I also speculate, while they're there, they talk about me and other men and giggle like little girls for three days. (Come to think of it, they may not talk about me at all.)
Nothing wrong with that.
In fact, if there was a viable outlet for women to actually discover how much fun guns can be, I bet a lot more would be doing the same. And there is the problem; gun magazines and gun blogs are made for men and too many times when a woman appears in a gun magazine or on a gun blog, she is just as qualified to appear in the Sports Illustrated Swim Suite Issue. Men kind of like that; women, not so much.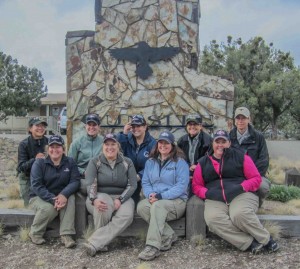 What we (men & women) need is an outdoor / gun blog that caters to women. A blog that does away with all the macho, chauvinistic bull and deals with topics the professional, motherly, independant woman would read. Interlace some gun and hunting stuff with some advice on making lunches for your kids, jewelry, killer menus and sinful shoes and you'd have a winner. Somebody needs to step up and fill the void and then, several manufacturers in the firearms community need to do the right thing and sponsor it.
Lord knows I'm not qualified to write it!