Jeff Cooper was the originator of the scout rifle concept. He started with a Remington model 600 in 1966 and advanced the concept from there. The ultimate result was the Steyr Scout. Ever since Cooper first mentioned the concept, custom gunsmiths and major manufactures have bastardized it. All hoped to appeal to members of the cult-like clan Cooper's scout rifle inspired.
The basic premise behind the scout rifle was a general-purpose rifle, no longer than one meter, weighing less than 6.6 pounds, that could be employed with equal effectiveness for hunting or defense. Cooper envisioned it as the one-rifle answer to all things rifle. We can argue endlessly as to whether Cooper was right but you have to admit that the general purpose rifle concept is appealing, especially when one conforms to all of Cooper's stipulations. Interestingly, no one has really effectively applied this general purpose, utilitarian, scout-like concept to a rimfire.
As much as we would all like to dream about one rifle we could hunt the globe with, all the while being adequately armed to fight off bad guys, zombies, or whatever, the reality is that the true American utility rifle is a rimfire. It is the one rifle everyone is likely to have, and it is the one rifle that everyone shoots the most. It can be used to fulfill the three F's where it is used for fun, for obtaining food and, in a pinch, for fighting.

Ruger American Rimfire Rifles
Not too long-ago Ruger shipped me four of their new American Rimfire Rifles to review. At first I was a bit underwhelmed, mostly because they were nowhere near as attractive as my Rugger 77/22. However, I did due diligence and scrounged up all the rimfire ammo I could find and started shooting. That's when my mind started to change.
The primary appeal of the Ruger American Rimfire is affordability. For an accurate rimfire with a decent trigger and a modular stock system, they are a great deal. Throw in a fiber optic front sight and a fully adjustable, fold down rear sight (Every rimfire rifle should have open sights.) and these rifles might just be the best deal going. No, they are not pretty, but from a utilitarian standpoint they could be considered handsome.
Having spent the last several years deep in scout rifle research, testing, and theory, I've come to appreciate several aspects of the concept. At least as far as a general purpose rifle is concerned. I began to wonder if I could convert one of these Rugers into a rimfire scout rifle. If so, it might become the perfect general-purpose rimfire.
Building a Rimfire Scout
First, I needed to choose one of the four models to start with. That was easy; I wanted the rifle to be as compact and as powerful as possible so I chose the Compact model in 22 Magnum. Seeing as how I wanted a utilitarian, survival type rifle I figured the open space in the stock could be used to store some survival essentials. So, I rounded up a fire starter and a Spyderco Dog Tag knife. Both were stuffed, with some foam, into the hollow butt stock.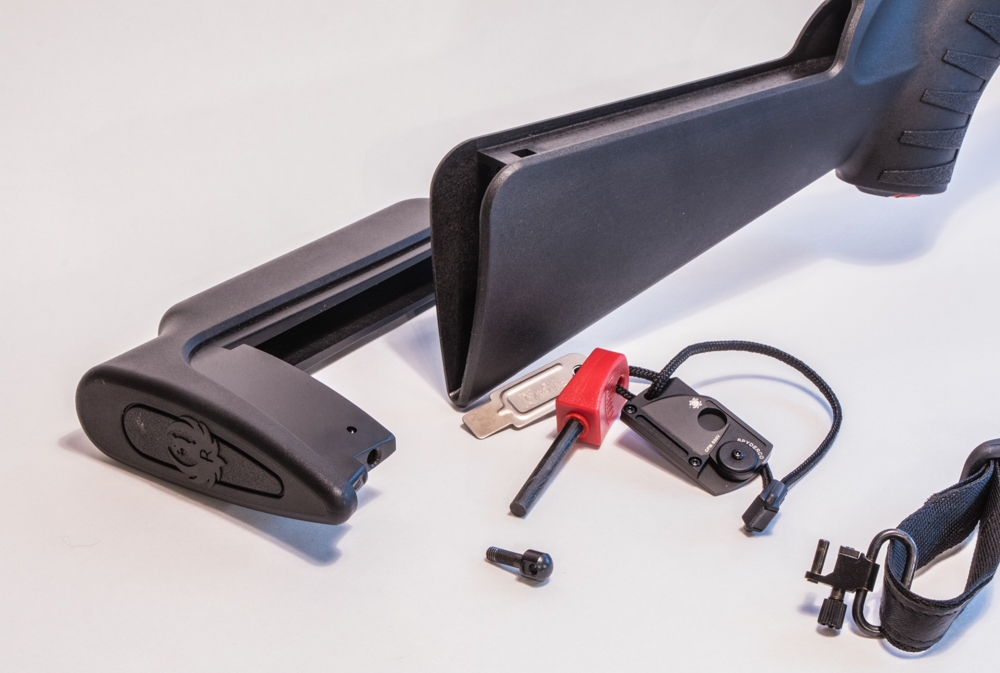 Next, I needed to fix the sights. My aging eyes have trouble with standard sights, which is why I use a lot of aperture sights from XS Sights. These work for those suffering from presbyopia because it negates the need to focus on something up close. In addition to grooving the receiver, Ruger wisely drilled and tapped it to accept scope bases. Fortunately, the radius and hole pattern matched a rear sight XS Sights already made. It was a two-screw fix.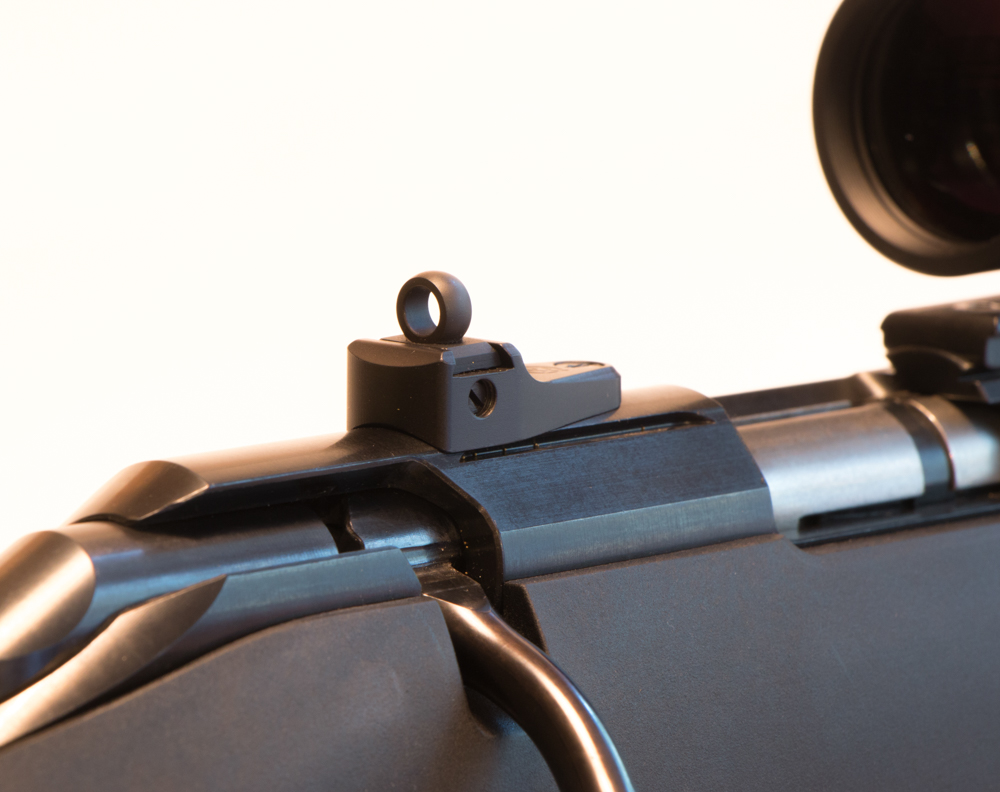 The mounting of a long eye relief scout style scope would prove to be something above my pay grade. Discussing the project rifle with gunsmith, Jerry Dove at Dove's Custom Guns, he thought he could make a mount. In the mean time, I ordered one of the little known, nine-ounce, four-power Scout Scopes from Weaver. Experience told me 4X was plenty of magnification for what I might need to do with a 22 Magnum. And, since I did not intend to use it to fight off a charging lion, there was no need for extreme low magnification.
In a few weeks Jerry called and suggested I check out his handy work. It was perfect. The scope mounted just enough forward of the action to allow single shot loading and for the removal of problem cases if the extractor failed. It was perfect except that the necessary thickness of the rail did not allow me to see the front sight. I called XS Sights, explained the dilemma, and they sent me a new front sight that was 0.65 inches tall, from base to top. Jerry had to drill an additional hole and two more screws solved that problem.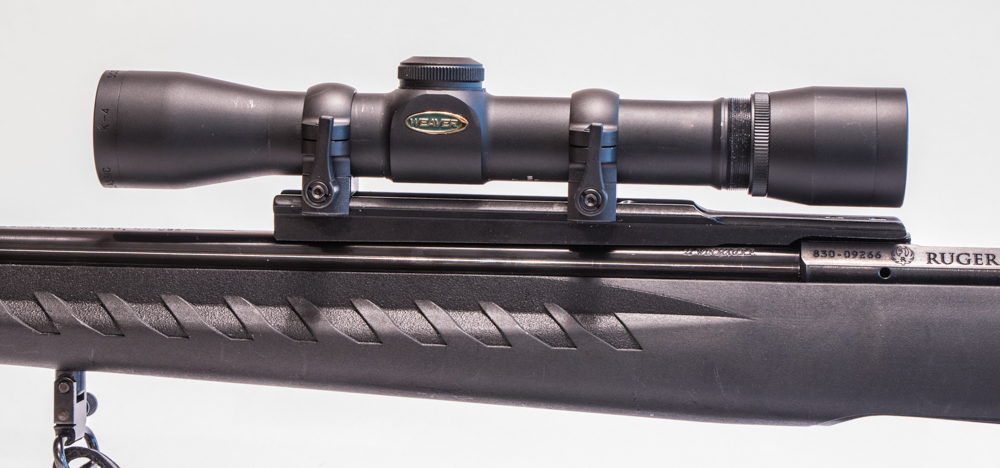 After the rifle's first trip to the range I realized it was so much fun to shoot that a single nine-round magazine was just not enough. And, after a few squirrel hunts it was apparent it needed a sling. Two, 25 round magazines from Shooters Ridge fixed the first problem and an extremely comfortable, automatically retracting sling from Vero Vellini solved the other. (This sling has since been replaced by the Galco RifleMann sling I helped design.)
My three hundred-dollar rimfire had drastically evolved. It had also acquired some accessories. Like with any rifle it needed a case but it needed a case with extra storage for the spare magazines, extra stock combs, and for the scout scope when it was not in use. After some time spent with Google, I discovered a Ruger case with the extra storage I was looking for.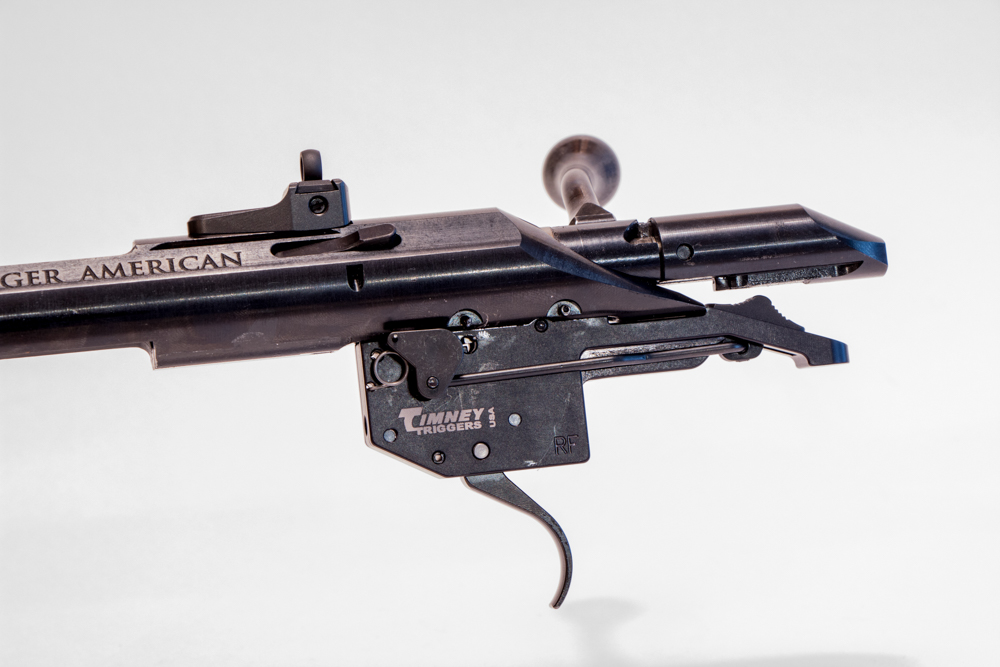 There was however something about the rifle that bothered me. Even though the Ruger Marksman Trigger broke crisply at a reasonable weight, I deplore those passive safety levers in the center of the trigger. I called the smart guys at Timney Triggers and complained, suggesting they make a trigger for the Ruger American, just like they do for damned near every other rifle. Either they already had one in the works or they thought I was a gun writer with a truly good idea. (I'm betting on the former.) Soon I had a prototype and in a few minutes I had it installed. As expected of any Timney, it had no take up or creep. Dare I say, it breaks at 2.5 pounds, just as easy as a young girl's heart.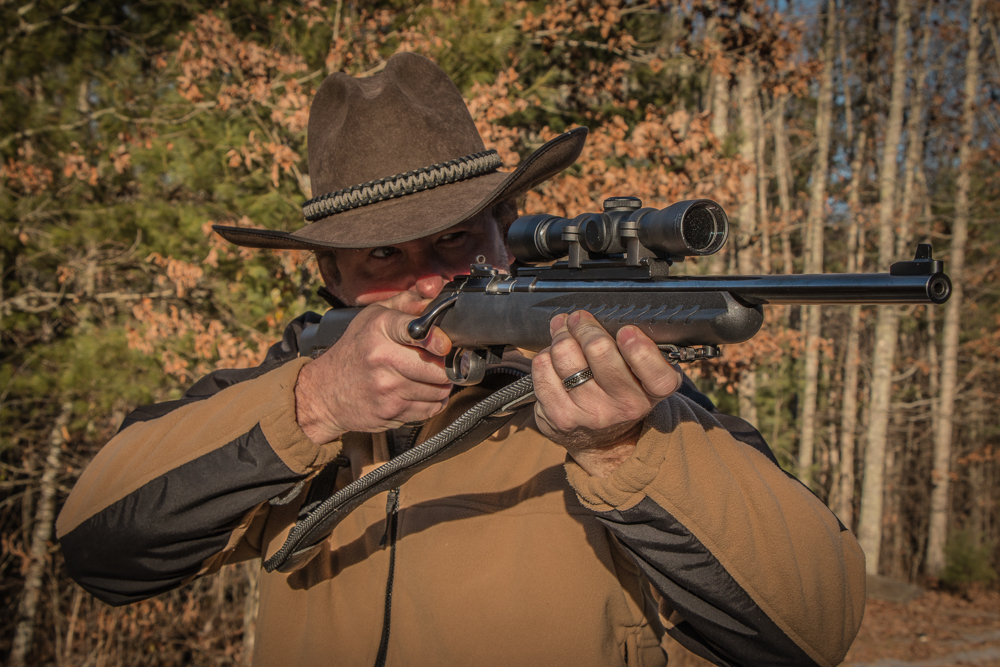 One of a Kind
As it is my Ruger American Rimfire Scout is a one of a kind custom creation that can serve everyone who lives in my home and me. Not only can it serve us all, with the modular stock system, it fits us all too. It is a great squirrel rifle, a perfect training rifle and a nice little fox, coyote, and bobcat rifle. In a pinch, it is also enough gun to whack a deer. It lives behind my truck seat in its dedicated case, with all of its accessories and 100 rounds of ammo. It might be the perfect survival rifle.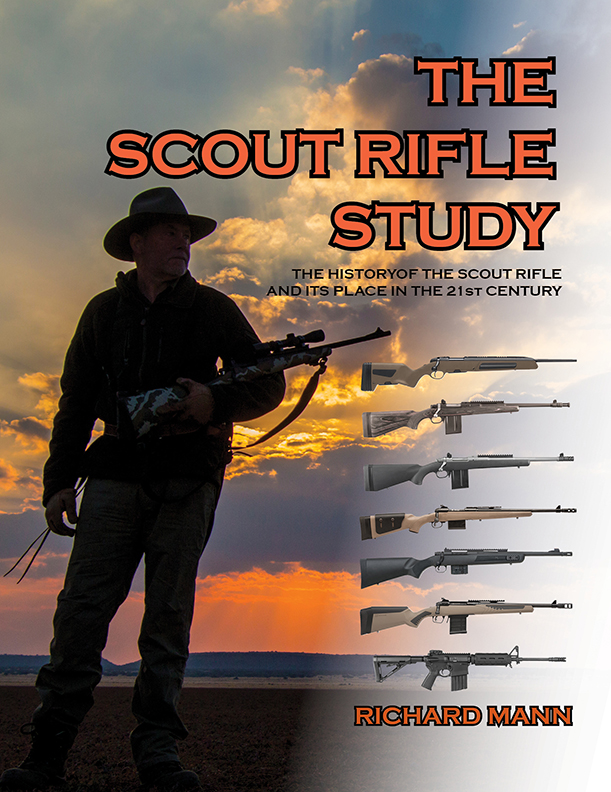 Whether you know it or not, the scout rifle craze is at an all time high. Ruger is selling Gunsite Scout Rifles as fast as they can make them and other manufacturers are getting on board. If you want to learn more about Scout Rifles, you can order my book, The Scout Rifle Study, direct from Amazon. With apologies to the Colonel, I call my rimfire scout the Mini-Cooper and everyone I've showed it too has been green with envy. I believe a similarly modified Ruger American Rimfire should become a standard catalog item. RUGER, ARE YOU LISTENING?
Until that happens, you'll have to take the road I followed. Dove can put this same package together for about a grand or, alternatively, you can send him your Ruger American Rimfire and he can make a scout scope mount and install it for about $ 150.00.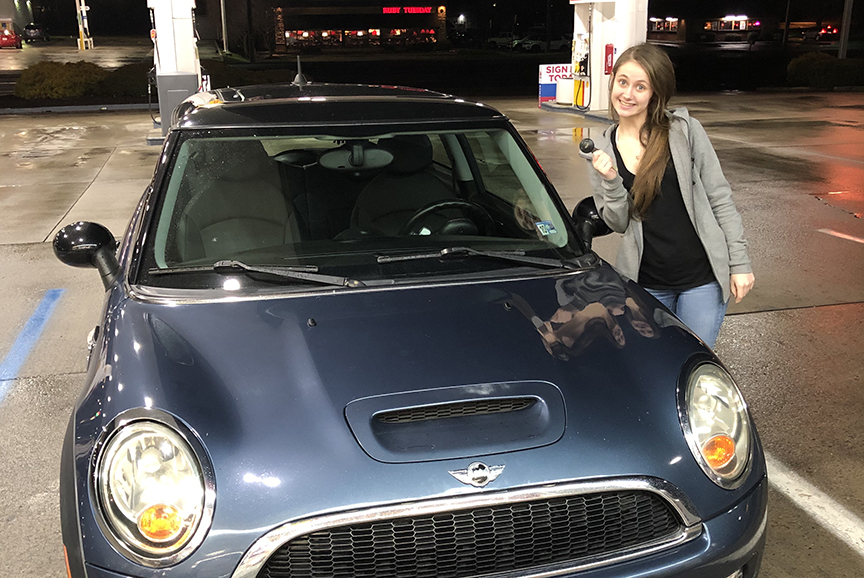 Once you go down this Mini-Cooper road, you never know where you'll end up. After saving all the cash she could, and after raising and selling a litter of puppies, my oldest daughter has a car to go with the rifle she'll someday call her own. I don't think this little vehicle is as general-purpose as the rifle. On the other hand, from a rimfire perspective, maybe it is.