While researching Cooper's various scout rifles it come to my attention that Super Scout IV was assembled by Melvin Forbes of New Ultra Light Arms. This rifle would come to be known as "Lion Scout" and was – as best as can be determined – a combination of work by Forbes, Fred Wells, and Johnny Mahan. It is currently in the possession of John Ganaway, who was gifted the rifle by Jeff.
Interestingly, I found out that when gun scribe Cameron Hopkins, former editor of American Handgunner (1984 – 2001) saw Super Scout IV he contacted Melvin Forbes and asked him to build one for him. It too was chambered for the .350 Remington Magnum but unlike the Lion Scout, this rifle was built entirely by Forbes.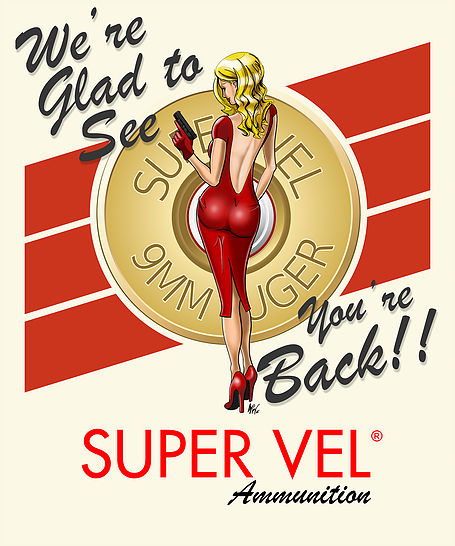 As it turns out Hopkins, recently decided to investigate the possibility of launching Super Vel ammunition brand with newer, hotter, better loads. Lee Jurras has gifted Hopkins with the use of the brand name and Cameron, using a SAAMI certified ballistics laboratory, has revived the beast. The new Super Vel .45 AUTO +P load produces 1,150 fps with a 185 gr. JHP and the 115-grain 9mm Luger +P load will provide 1300 fps! But, that is another story I'm working on for a print publication.
During our phone conversation, Hopkins offered to send me the rifle Forbes built for him, along with some ammo to shoot. The packages arrived today. As I'm sure to Forbes displeasure, the barrel has been Magnaported and it appears Hopkins attempted to get artistic with spray paint; the entire rifle has been painted in a homegrown camo pattern. I'll leave it at that and say nothing more about the rifle's attractiveness. If a man loans me a rifle, provides the ammo, and tells me to shoot it, I'm not going to call it ugly.
More interestingly, this rifle with its back-up sights of an unknown origin and the Burris Scout Scope weighs six pounds, two ounces. That means even if you add the customary six ounces for a sling and swivels, you still have a less than 3kg (6 pound – 9 ounce) Super Scout or "Fireplug," as Cooper liked to call them.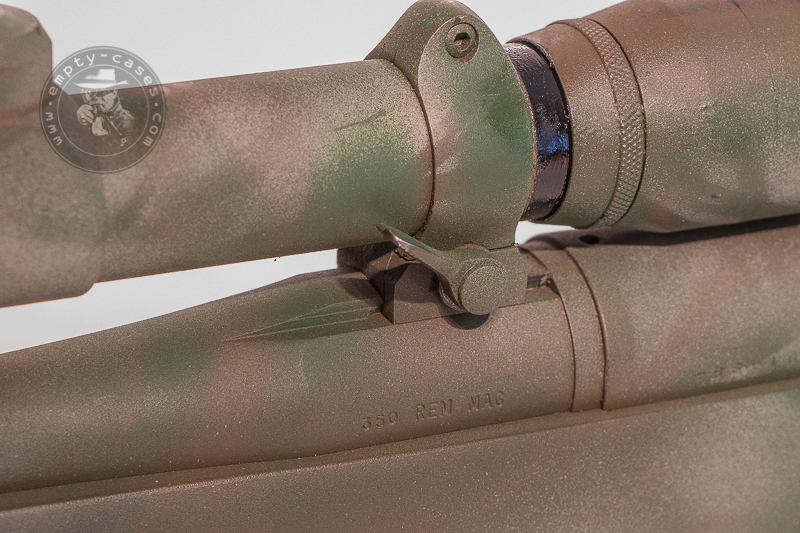 If you will notice, Forbes meticulously machined the rear scope mount into the barrel. As for the forward scope mount, it is soldered to the barrel. The rifle has the Cooper preferred, three sling swivel attachment points, but they are not of the Pachmayr variety. It's magazine is also of limited capacity, holding only two cartridges down, with one up the spout. Talley rings hold the scope in place but unusually, the quick release lever on the front ring has reverse threads. Go figure.
For scout rifle aficionados this rifle is not as historic as the Lion Scout. But, there is no question the Lion Scout inspired it and they were built by the same man. This rifle just might be the lightest Fireplug ever constructed. Hopefully, if the rains ever stop, we'll have a video of this rifle on the range with a full description.
Hopkins obviously does not know me very well. As he is about to learn, when you send me ammo, I shoot it…all!
Just so you know, this is the only scout rifle ever completely built by Melvin Forbes / New Ultra Light Arms.