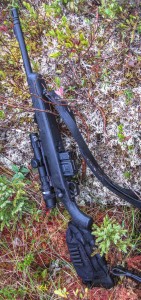 I've said many times before that when it comes to hunting, "It's all about the shot." In fact, that is the title of my upcoming book about mastering the hunting rifle. Friends and associates like to argue with me offering that the hunt is about much more; the pursuit, friends, experiencing the outdoors and so on. Last year I had this discussion in the wilds of Mozambique with Gunsite instructor Il Ling New and Sheriff Jim Wilson. They did not agree with my assessment.
So, before I offer definitive proof that hunting is indeed all about the shot, consider the notion that there is, absolutely no chance for a shot on your next hunting trip. You can expect to see beautiful country, you can expect to share time afield with good friends but you know, beyond a doubt, that you will not have even a remote opportunity for a shot. All that known in advance, you probably will not go. After all, with no chance for a shot you could leave your rifle at home.
On the other hand, if there was just an inkling of a chance that you might get a shot opportunity, that changes everything. And, that opportunity and the chance to maximize that opportunity is what we are actually hunting for.
10 years ago I traveled to Newfoundland to moose hunt with my friends at Mount Peyton Outfitters, where the year before I had taken a B&C woodland caribou. The weather was hot and I did not get that shot opportunity until the last day. When it came I buggered it up and wounded a moose that we tracked for miles. It would be one of only three animals I've lost to a rifle shot after more than 40 years of hunting and it haunts me to this day.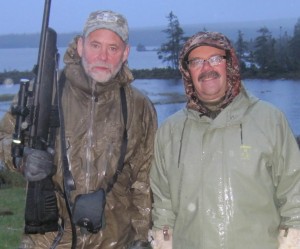 Last year I was at Mount Peyton again, moose hunting with my good friend Linda Powell from Mossberg. For the first three days it was the weather again, but at last it broke and on a spectacular frosty Newfoundland morning I redeemed my bad moose shooting with heart shot on a bull just on the other side of 200 yards. I had managed to do with a Mossberg MVP rifle in .308 what I had failed to do with a Kimber. What I wanted now was a shot opportunity at a bigger bull.
This year Linda Powell, Sheriff Jim Wilson, David Draper and I were back at Mount Peyton enjoying some of the best hospitality you can find in a hunting camp. Food was plentiful and tasty and most nights Sheriff Jim serenaded us with some country western tunes. But the Newfoundland weather was in true form with relentless rain and wind for four days. In fact, after four days of hunting I had yet to even see a moose. Sheriff Jim got his shot on Wednesday and made the best of it. On the last day of the hunt, Linda, David and I were still looking for ours.
With about two hours remaining to hunt my opportunity finally came. My guide Gordon Pelley, one of the best in the business, called a wide racked bull in to about 60 yards. Gordon forcefully whispered, 'Shoot!" Problem was the shot was not there and I whispered that back as I went prone over a mound of dirt and rock.
Gordon called again, softer this time, and the bull turned toward us and took a few steps. At less than 65 yards I thought, I'll just shoot him between the eyes and drop him right at the road's edge. Recovering moose from the Newfoundland tangle is hard work and I thought I would ease that burden. However, there was a branch from a spruce tree between the moose's brain and me. There was also some urgency because the wind was sure to soon let the bull know that the moans he was hearing were not leading to a little bog bound erotica for him and a willing cow.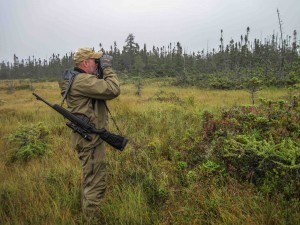 From the prone position and with a target at only 60 yards I was prepared for a precision shot. I placed the tip of the Trijicon post reticle just under the moose's nose and at the center of his chest. Then I touched off the shot I had been waiting for.
The rifle roared and the moose twisted and turned into the thickness. As expected with a chest shot, there was little blood. That and the fact that the forest was wet made tracking difficult. We looked for an hour and then went back to the scene of the encounter. Gordon took the place of the moose and I retraced the shot. The investigation did not reveal good news. The Nolser Partition had hit a branch about the size of a pencil and even though the moose was only about 15 feet behind that branch, there was no confidence in where the bullet actually struck the bull.
Another hour and a half of searching turned up only a few drops of blood.
I must say that I had an incredible time in camp with my fiends and I also enjoyed the time in the field viewing the magnificent Newfoundland country and wildlife. But, all that enjoyment came while I was anticipating the shot I might and ultimately did get. I blew that shot which was an easy a shot as I have ever had while hunting – small spruce branches are hard to see when the backdrop is a lot of moose hair.
Hunting is many things to many people but one thing it is to all hunters is all about the shot. When you get that shot you've been hunting for, make it count. If you don't and you are hunting in Newfoundland I can assure you those Newfies will never let you forget it. And, take it from someone with some experience in this area, that shot your hunt was all about – the one you screwed up – will haunt you for the rest of your life.