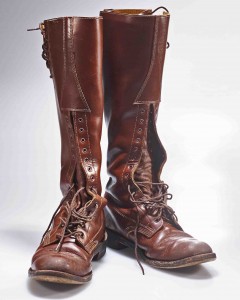 Romance is a big part of hunting and to experience that romantic connection to the past, hunters often go to great lengths. Sometimes to their detriment. This infatuation with the romance of the hunt probably most happens in Africa. Images of the last ivory hunter or Ruark often drive hunters to equip themselves in the proper attire or to hunt with firearms from that golden age. Admittedly, we would all like to be a bit like Lt. Col. John Henry Patterson; slayer the man eating lions of Tsavo.
I've been guilty of this in the past myself and at times still get romantic. Like when I pull a lever gun out of the safe to deer hunt. You could even say that all bow hunters are romantically connecting to the past even though modern bows look like something out of a science fiction movie.
The grandest display of romance I have ever seen in the hunting fields was indeed in Africa just last month. I was hunting with Trijicon in South Africa at Fort Richmond Safaris. Fort Richmond, which is not too far from Kimberly in the Northern Cape, has a history. From 1899 to 1902, English soldiers fighting in the Anglo-Boer War occupied the house. The family was sent to Grahamstown for the war's duration but Walther Wayland stayed behind to keep a watchful eye over their precious and very large piece of Africa which the family still owns to this day. The British built a fort on a small hill on the ranch and Lord Strathcona was, for a time, in charge of that detachment.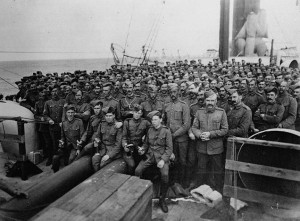 Lord Strathcona is known for several things but probably most notably for the boots he developed for his troops stationed in South Africa. These boots you have seen before, they are still worn today by the Royal Canadian Mounted Police and it is thought that members of the North West Mounties serving under Lord Strathcona liked his boots so much they adopted them.
So what about the romance? One of our hunting party was an Editor I sometimes work with by the name of Eric Poole. Eric is in charge of all the special edition publications for Intermedia Publishing and he is one of the most passionate of all the folks I've worked with in the gun and outdoor industry. When Eric learned the story of the Strathcona boots, he had to have them for the hunt.
A great boot they are. They protect your lower legs and offer very good ankle support. The problem with them is that they have leather soles and as Eric soon learned, these boots – while made for walking and riding – were not made for climbing steep, rocky mountains. And, we did a lot of climbing steep, rocky mountains on this hunt. Eric did a lot of falling.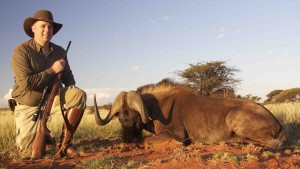 However, no matter how many bruises came, Eric persevered and he wore those boots for the full seven day hunt. He put them on in the morning and took them off in the evening. By the end of the seven days those historical boots were well broken in and had been splattered with the blood from several African animals. Now, Eric has a story he can tell that few – no – probably no one else can. Well, I'm telling it but it's not the same because I did not do it.
Why am I sharing this with you? Because romance is a big part of hunting.
What we take from the hunt to tell others and to remember is, right along with the venison we harvest and eat, the spice of the experience. I'm sure that Eric's choice of footwear was not the best choice given the circumstances. All of us, including the professional hunters made fun of Eric and his boots for the full seven days. We were, without question, brutal in our jokes.
Eric never once considered not wearing them. He never once complained about his unsure footing on the rocks and he smiled the entire time. Maybe the widest when he was walking the ruins of the fort on the hill above the lodge at Fort Richmond.
And, you know what? Secretly, I believe some of the others in our party wished they had been wearing those boots too. So they too could have been walking the same ground, in the same famous boots that the soldiers did over 100 years ago. Now that's Eric's story and what a wonderful romantic tale it is. Eric, Lord Strathcona would have saluted you!
My message to you is to not get all that caught up in your hunting to the point you miss the romance. Take grandpa's 30-30 deer hunting this fall and shoulder your father's old model 12 for a turkey next spring. Maybe even wear your Uncle's old vest when you walk the fields trying to put up a quail.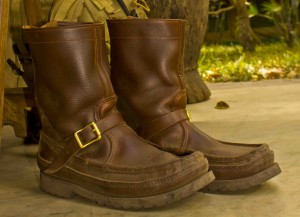 The boots I wore on our safari are not quite as historical as Eric's but they are just as special, at least to me. You see, my mom only wore Gokey, slip on moccasin style boots when she hunted and last year I ordered a pair of Russell Zephyr boots to wear when hunting in Africa which is a place Mom never had the chance to see before she passed. No, these boots are not exactly like Mom's but they are close and now I can kind of have Mom with me when I am hunting far away. Like when I was a young lad hunting with her in the West Virginia hills.
Sappy? Yes. Comforting? Most definitely!
Hunting is fun but it's even better when there is some romance attached.