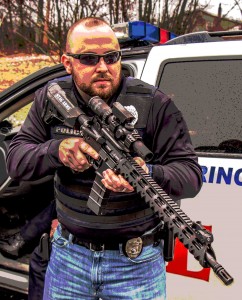 Anytime the words FREE and TRAINING are in the same sentence you can generally expect the training you get to be worth about what you pay for it. That's not the case with the Lights, Sights and Lasers Tour which is administered by Khyber Training. Khyber Training is owned and operated by Wes Doss. Wes is an internationally recognized firearms, tactics, and use of force instructor with over 20 years of military & civilian criminal justice experience. He is also a fine instructor as I can personally attest to, and in addition to that he is very savvy when it comes to the application of lasers.
By working with a variety of companies who are adamant supporters of the American street cop, and most importantly, convincing them to pay the bill, Wes has arranged a training tour for law enforcement officers which is FREE for attendees. Sponsors for the Lights, Sights and Lasers Tour include; Steyr Arms, XS Sights, Blade Tech, Sharps Rifle Company, Terralux, Gargoyles, Rainer Arms and DRD Tactical.
If you are a police officer I encourage you to check out the 2014 training calendar for the Lights, Sights and Lasers Tour to see if a class is being hosted in your area. If you know a cop I suggest you let them know about this opportunity.