Jeff Cooper is credited with a number of things as it relates to firearms. First and foremost is the founding of the American Pistol Institute in Paulden, Arizona, which is now known as Gunsite Academy, and as the preeminent civilian firearms training academy in the world. Some of the others include the four basic firearm safety rules, the inspiration for the 10mm, and his highly revered Scout Rifle concept. There is however one Cooper concept that gets little attention.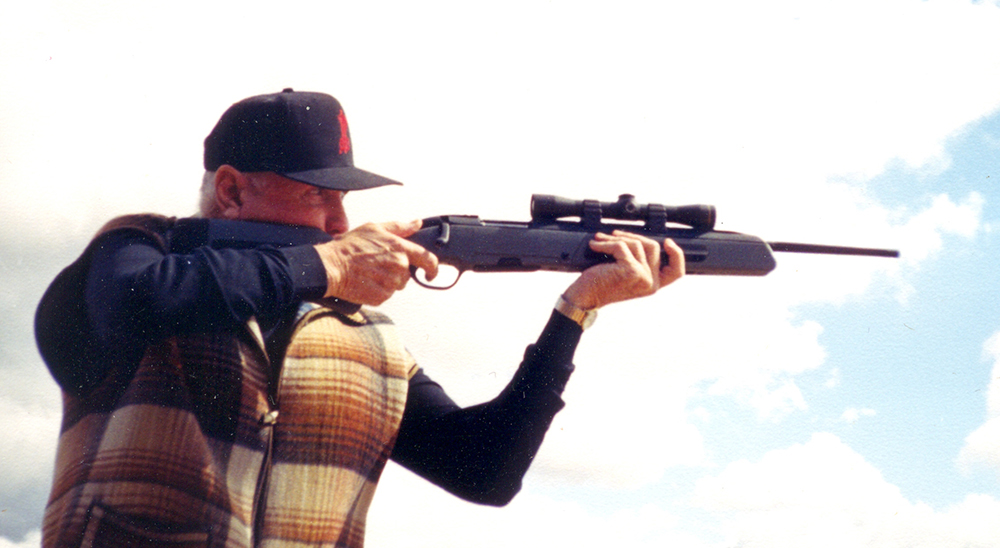 For Cooper, his Scout Rifle concept was the ultimate expression of a general-purpose rifle. Everyone likely knows that Cooper believed the ideal cartridge for general purpose use was the 308 Winchester, but what few realize is that Cooper also believed and expected that cartridge to deliver a certain level of performance. It is a fact that is rarely written or talked about, and one that is also mostly ignored even by Scout Rifle aficionados.
In his book, To Ride, Shoot Straight, and Speak the Truth, Cooper stated, "All scouts up to now have been in caliber .308, and the chronograph insists that the proper loading can start a 150-grain bullet from a 19 inch barrel at a couple clicks over 2700 f/s. These ballistics served Theodore Roosevelt and Steward Edward White very well in Africa, and they still can." This stipulation was not pulled out of thin air, it is in fact the actual ballistics for the original loading of the 30-06, which was a cartridge that was respected by Cooper and still is by a large portion of American shooters and hunters.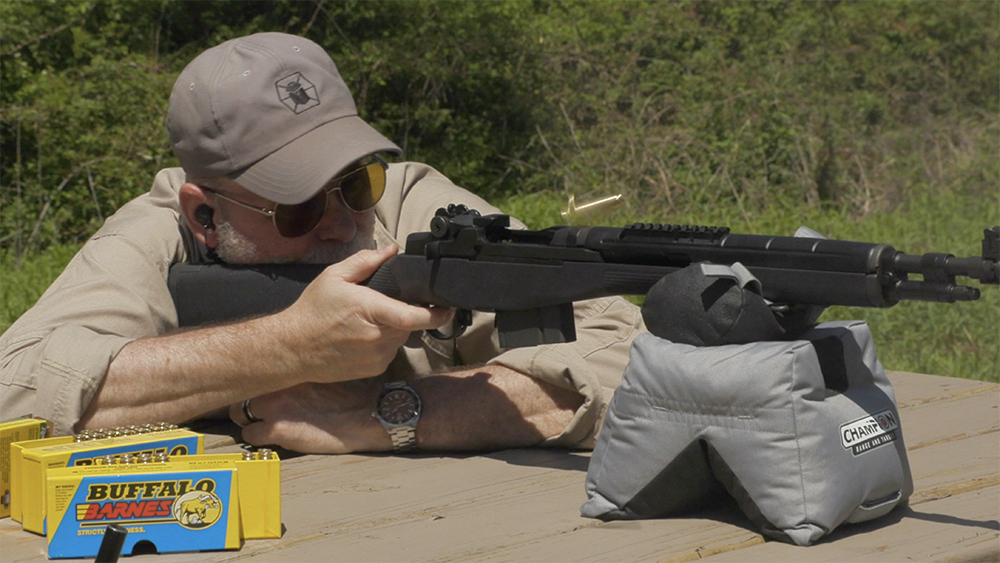 But here is the problem. Few commercial 150-grain loads for the 308 Winchester will deliver the 2700 fps from a 19-inch barrel – which was specified by Cooper for the Scout Rifle – and, to further complicate the matter, only one commercially produced modern day Scout Rifle even has a barrel that long. Most measure between 16 and 18 inches. And too, even from most 20-inch barreled 308 Winchesters you will struggle to get 2700 fps from commercially loaded 150-grain 308 Winchester ammunition.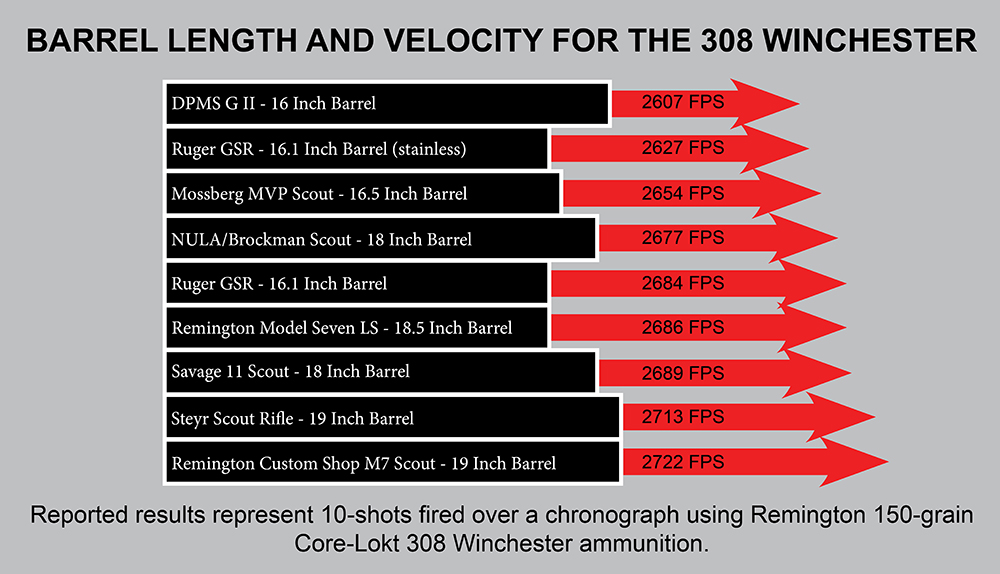 When I was researching my book, The Scout Rifle Study, I conducted a test with a variety of short-barreled 308 Winchester rifles. The results were very interesting, and they illustrated Cooper knew what he was talking about. As you can see, with the Remington 150-grain Core Lokt 308 Winchester load, you will in fact need a 19-inch barrel if you want to reach what Cooper considered the desired level of general-purpose rifle performance: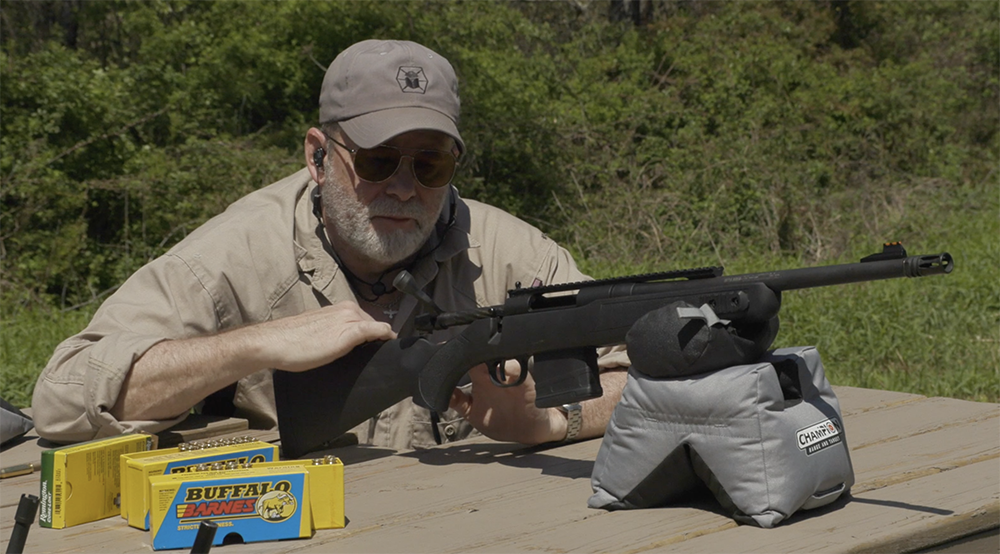 Of course, as Cooper insinuated, one could handload. However, that sort of detracts from the general-purpose concept; a fellow ought to be able to buy general purpose ammunition for a general-purpose rifle. After a discussion with Tim Sundles of buffalo Bore ammunition, he suggested I try two of his 150-grain 308 Winchester loads. The first is topped off with a 150-grain Sierra Pro-Hunter Spitzer bullet, the other is loaded with a 150-grain Barnes TTSX bullet.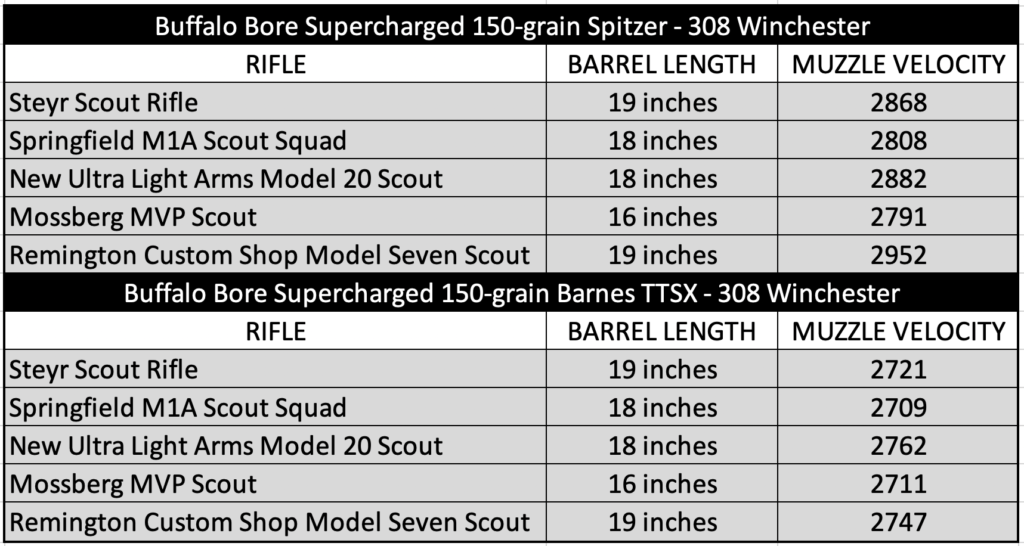 As you can see in the chart, I run these two loads through three different rifles with barrel lengths from 16 to 19 inches. For 10-shot strings they all recorded an average of more than 2700 fps. In fact, not a single velocity recorded with either load registered less than 2700 fps. Any way you look at it, this is top level – as Tim Sundles would say, "supercharged" – performance for a 308 Winchester. And, from a hunting or self-defense standpoint, I can't think of a chore you would need to do, that one of these two loads would not handle.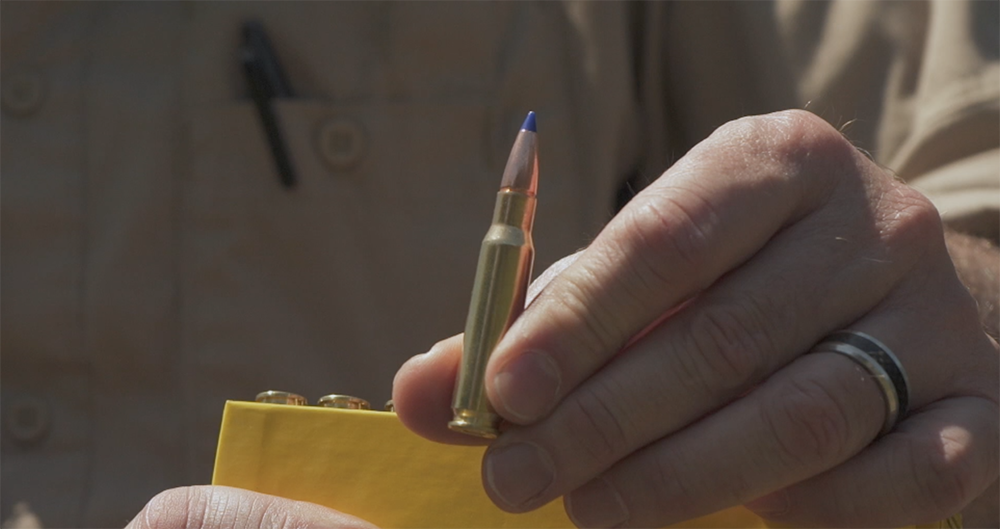 In the end I must say, Cooper was right, "the chronograph insists that the proper loading can start a 150-grain bullet from a 19-inch barrel at a couple clicks over 2700 f/s." Actually, with the proper loading you can achieve 2700 fps with a 150-grain bullet from a 308 Winchester with a 16-inch barrel. Regardless of your opinion on Scout Rifles or the 308 Winchester, short of critters like buffalo, hippo, or elephant, this is about all the gun anyone would ever need. The two Supercharged 308 Winchester loads from Buffalo Bore might just be the best general purpose loads for a centerfire rifle that you can buy across the counter.  
In this video you can watch single shot chronograph tests of the two Buffalo Bore loads out of five different rifles with barrel lengths from 16 to 19 inches.