Trijicon has a new entry in the miniature red dot sight market. It's called the MRO which stands for "Miniature Rifle Optic." As expected, this sight is primarily intended for the AR and similar carbine platforms but when I opened the box, memories of shooting warthogs in Africa passed through my feeble mind. Instead of immediately mounting the MRO on an AR, I attached it to one of Mossberg's new MVP LR Tactical rifles, grabbed some ammo, and stepped out on the range.
Mossberg's MVP LR Tactical is essentially an MVP with a heavy contour but short barrel fitted in an OD Green wood stock. The stock has an integral adjustable comb that is operated by a push button. In my opinion, Mossberg should have used this stock on their MVP Scout. It would have allowed for proper eye alignment with either an optic or sights. Weight would have been the only "scout" consideration as this rifle weighs eight pounds with the Trijicon MRO attached.

But, the Mossberg MVP LR Tactical is not the subject at hand. The Trijicon MRO is a radical little red dot that is only 2.6 inches long and weighs a scant four ounces. It has a rheostat offering six visible brightness settings and two night vision settings. The battery is said to last for five years. It's also, as expected, parallax free and waterproof to 30 meters. A cleaning cloth, sticker, instruction manual, battery, hex wrench and three Picatinny rail mounting blocks of varying heights were in the box with the sight.
After zeroing I pushed a box of ammo through the Mossberg while shooting at an Action Target Hostage Target at 125 yards. Hit were easy and I found I could get them fast. Twice I managed three hits on the steel in less than eight seconds. Remember, this was a bolt-action rifle.

After a limited range session I'm impressed with the Trijicon RMO. I'd have to say the same about the Mossberg MVP LR Tactical. There were no issues of any kind experienced with either and the good news is neither are truly expensive, for a shade beyond a grand you can own both. I bet I know what professional hunter Leon DuPlessis with Fort Richmond Safaris in South Africa's Northern Cape would say about both.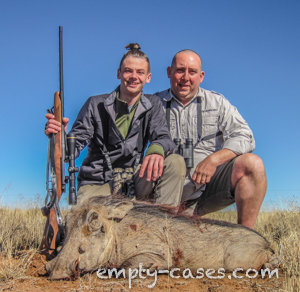 You see, Leon has an addiction for shooting warthogs. This is not just a sometimes addiction; Leon has it bad. Like a heroine junkie, Leon is constantly looking for his next warthog fix. The good news is that Leon is not particular about who does the shooting. On my last safari our group met at a large waterhole for our mid day meal. While we were enjoying the wonderful cuisine, some warthogs stopped by for a drink. My son grabbed the MVP Scout and he and Leon put on a successful stalk. (Sorry, no photo. I was busy feeding my famished body.)
Considering the fact that you cannot take an AR to South Africa – you can own them there – I'm sure Leon would dub this combination a warthog whacking wonder gun. That would be an interesting phrase to hear given his South African accent. And, while there is a tremendous shortage of warthogs here in America, there are plenty of feral hogs needing put down. For fast snap shooting with a bolt-action rifle at close range, and for various tactical applications with the AR, Trijicon's MRO deserves a look.