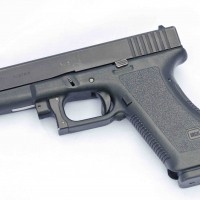 Reliable lasers for defensive handguns have been around since 1994 when Crimson Trace introduced a laser modification for the Glock. In case you are mathematically challenged, that was 20 years ago. Over the span of those 20 years the laser has become, next to holsters, the most popular defensive handgun accessory. Ironically, as popular as the laser now is, none of the 57 blue million handgun training schools across the country have been offering laser training for the defensive handgunner.
This seems hard to believe because any way you look at it, a laser on your defensive handgun – specifically one that offers thought free and instant activation – can be a tremendous asset to your ability to survive. Put simply, a laser allows you to execute target focus shooting. This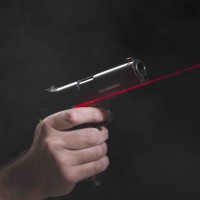 means you do not have to take time to divert your focus from the threat to the front sight and it means you can concentrate on the threat. Also, lasers are  unequalled if you have to shoot on the move.
However, shooters need to be trained how to do this properly and they also need to be able to transition between a laser and the sights effortlessly because sometimes you might not be able to see your laser or, like anything else, it could break. Just like a tourniquet, a laser can be a life saving tool but you have to know how to use it.
After working with Crimson Trace on their laser training DVD, The Laser's Edge, and after finishing my book, Handgun Training for Personal Protection, Crimson Trace asked me about setting up a training program for lasers and defensive handguns. I agreed to help but under one condition; it had to be taught at Gunsite. I won't go into all the reasons for this; if you want to know why I felt this way, you can read more about Gunsite HERE and HERE.
Essentially, what happened was that I presented the staff at Gunsite with the challenge of integrating lasers into their well respected 250 Pistol Course. The Gunsite staff, primarily Dave Starin and Chris Weare, put a program of instruction together and in early November of 2013, several NRA instructors, some firearms experts and a few Crimson Trace employees and I spent a week at Gunsite as students in this class.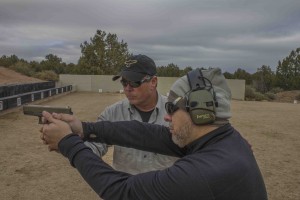 As usual, Gunsite hit a home run and they listened and responded to the feedback from those in attendance. We all learned from the experience and I'm more than confident in the final program of instruction.
Now, 20 years after defensive handgun lasers became a trustable reality, there is a place where you can get real world training on how to use them. Just as importantly, this class, which is called the Gunsite – Crimson Trace Laser Integrated 250 Defensive Pistol Class, still incorporates all the instruction you would get in a regular 250 Defensive Pistol Class. Yes, you'll probably do more shooting and your days will be a little longer. You'll also have an additional low light shoot. But when you leave you will know that you have received some of the best and most relevant defensive handgun training available. And, no one, anywhere, will question the validity of your diploma.
It may have taken 20 years but the defensive handgun laser has finally arrived. If you plan to trust one I suggest you contact Crimson Trace or Gunsite and apply for one of only 30 slots available for 2014. Course dates are in May and November. This is training you cannot get anywhere else. Oh, and I almost forgot, course attendees will get a free copy of my book; a whopping $ 25.00 value! That alone should have you packing your bags right now 🙂