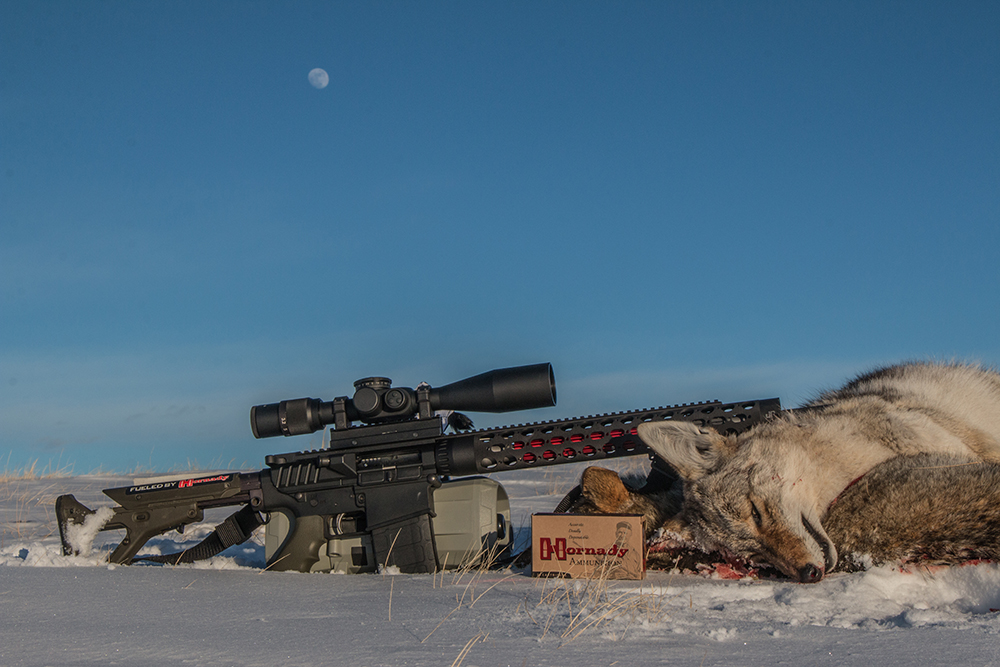 We had already called seven coyotes from the stand we were on. I had shot three of them. One of which, after dropping like a rock, got up and ran off three minutes later. I did not see the dog get up, I was busy engaging another coming in on a string to my direct front. We were about to celebrate our success when our guide – Cody Glause of Cole Creek Outfitters – spotted two other coyotes out at about 780 yards.
I did not pay them any never mind, they were well beyond my range, and they'd laid down, uninterested in the tempting music we were making. My partner on this hunt however said rather confidently, "I'm gonna shoot that coyote." Now, had this been a common man I would have laughed. But Neal Emery of Hornady is not your average trigger puller. I've seen his stuff in action; he once took a whitetail buck as clean at 702 yards as anyone else could have done at 25.

Neal asked, "Will you spot for me?"
"Yep. I'm on him. Tell me before you send it." We had a bout a 15 mph, 50° crosswind and Neal was using a JP AR 15 chambered for Hornady's new 6mm Creedmoor cartridge. I figured this might be a bit of a stretch of Neal's skill and equipment; the whitetail I watched him whack two years ago was shot with a 300 Winchester Magnum on a graveyard calm day. This was a smaller target and a lesser cartridge.
The bullet struck about a foot high, just over the coyote's back. I relayed the info to Neal as the dog jumped to its feet, sprinted about 25 yards, and stopped. Cody called out a new range of 806 yards and Neal said, "On the way."
The coyote nose dived into the sand hills, gained its feet, and tried to navigate the sage to make the distance even further. It did not matter, in less than 100 yards the song dog was down for the count.
Without question that was the best shot I've seen in the field. It was made by an employee of Hornady, with an AR 15, and a 6mm Creedmoor shooting a 108 grain ELD bullet, in a wind a pirate would have died for. If you ever run into to Neal, in the field or on the range, my advice would be to not challenge him to a shooting match.