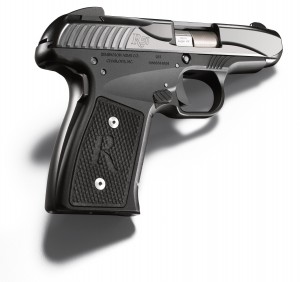 While you have probably been reading a lot about Remington's new R51 handgun on the Internet you may not realize that this pistol operates very differently from the most popular handguns on the market. It is essentially a modification of an old blowback design – The Pedersen Design – used on the original model 51. Blowback style handguns typically have slides that are very hard to retract but the locked breach of the Pedersen design makes slide operation much easier.
Unlike the other gun writers which have been reporting on this pistol, I was not present for its unveiling at Gunsite. I declined the invitation to hunt. (Shame on me.) At any rate, you can expect a full review of this handgun in Shooting Illustrated magazine very soon. I have one o the way and it will get a intense workout  by my wife, my son and me here at Shadowland. Reports form those I trust have been positive. We shall soon see what this pistol is made of.
I hear Galco even has holsters ready to go. Imagine that!
The video below – courtesy of Remington – illustrates how this action works.