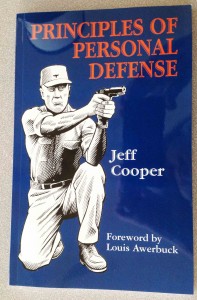 In my book, Handgun Training for Personal Protection, an entire chapter is devoted to mindset. Why? Because in the end, mindset matters most. I'd all the world to buy my book. My boy who thinks he is a basketball star is always needing new shoes. (How can a kid's feet grow that fast?) Both of my girls have a tribe of baby dolls and need more. And my wife deserves a lot more than I can afford to buy her. So, yeah, buy my book. I make about a dollar every time one sells and we sure could use the eggs.
However, as I do in my book, I suggest the first thing you purchase if you want to get the most for your dollar is Jeff Cooper's book, Principles of Personal Defense. If you can only afford to do one thing that will give you the best chance at surviving a lethal confrontation, read this book and follow the principles contained within. I can't summarize Cooper's writings here or even in a volume but I can break it down to something you might understand and its something my grandfather taught me. If and when the bad thing happens, get at solving the problem like you're killing snakes!
Cooper's Principles of Personal Defense is available direct form the Gunsite Pro-Shop. Order yours today because the world is full of snakes.