The only problem with my new favorite handgun is that no major manufacturer is making a holster to fit it. It will work in a holster for a Sig P238 or a Colt Mustang but it is too long and sticks out of the bottom. And, a man need a holster that fits his handgun.
Sheriff Jim hooked me up with Mike Barranti of Barranti Leather and Mike said he thought he could put something together. And, by golly he did. Today two fine looking leather holsters arrived in the mail and the little baby Browning 1911-22 fits in both perfectly.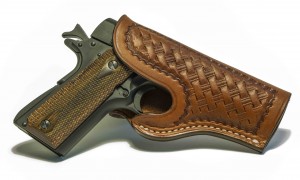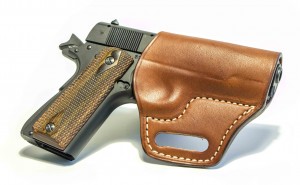 When I write the review of this cute little pistol for NRA's Shooting Illustrated you can bet I'll mention Barranti as a source for holsters for the little Browning. A handgun is just not the same without a holster. It's like a swimsuit model without a bikini. Well, maybe not exactly like that but you get the picture. At any rate, Mike makes some damn fine bikinis! I'm wearing one right now.