Sometimes its just best to keep your mouth shut. Too many times it seems that gun writers, firearms trainers and so called gun experts like to run their pie hole to put down a product, trainer or even another concept. I guess the thinking is that if they can talk bad about something then it makes them look smart.
First of all there is a difference in looking smart and being smart. My dad taught me that. He said, if you don't know what you are talking about; keep your mouth shut. However, the human tendency is to be resistant to or negative about things we don't understand. The .300 Blackout cartridge is a perfect example. Some labeled it an answer to a question no one was asking right out of the gate. Others, declared it the answer to every ballistic question.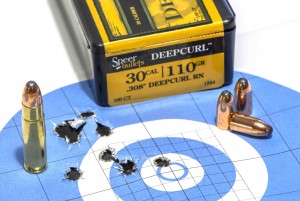 I was skeptical but reserved judgment until I'd had a chance to put the cartridge through an extensive test. I guess in the beginning it might have made me look not all that smart. After all, all the gun experts have been pontificating on the cartridge for more than a year now. My first print article on the .300 Blackout is due out in about two months. In summary, I was initially uninspired by the cartridge but after a thousand + rounds and a lot of handloading, I'm starting to see the light, its just not as bright as most folks claim.
What I've have learned is to keep my mouth shut until I have challenged my perceptions. Another perfect example is the Versacarry handgun carry system. About two years ago one of these showed up at my home unsolicited. I looked at it and said, out loud, "No way." I tossed the package in the corner and forgot about it.
But then I got to thinking that who ever had come up with this gadget had sent it to me for an opinion and in order for me to provide one I needed to actually try it. So I did and I was shocked at how well the Versacarry allowed me to conceal and comfortably carry a handgun. I contacted the man who conceived this cool tool and found out that the story behind the product was just as neat.
While in Texas working on another project I took the time to look this guy up and we visited for a while about his invention. I then wrote the Versacarry up in several magazines and here on the Empty-Cases blog. While doing that I tried to convey my initial misconceptions about the Versacarry and illustrate how well it actually worked.
Of course there were still doubters. Some were just average gun guys and others were, so called, gun experts and tactards. They complained that it did not cover the trigger or that it was stupid to stick a rod in your gun barrel. Some even belly ached that it would not work on the range because it was too hard to re-holster and that it was not safe.
I'm betting none of these folks have actually tried the Versacarry and I'm also betting that some of these folks are spokesmen for are sponsored by other holster companies. Even if that's the case, you don't prop up your product by trying to degrade the competition. As you can see, Galco Leather sponsors the Empty Cases blog. One of the qualifiers for sponsorship is that I have to use the product, the other is that I like the folks who work at the company and the last requirement is that they write Empty Cases a check. Trust me, it's a small check!
Even though Galco is an Empty Cases sponsor and even though I think they make some of the most incredible leather products and holsters for guns that you can find, I still speak positively about the Versacarry for one reason and one reason only: It works and so far it is the most covert way to carry a handgun that I have found short of sticking it in your pocketbook. I don't carry a pocket book by the way.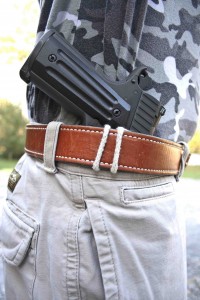 How would I know this? Well, I've been carrying handguns with the Versacarry for two years now. The newer models do cover the trigger guard but I don't use that feature which is optional. I'm not worried about someone sneaking their hands in my pants and pulling the trigger. If this is a common problem for you, I'm not sure I want to hear about it. And, you don't holster a handgun in a Versacarry like you do with a traditional holster so it is a non-issue.
In fact, the Versacarry is very similar in function to the OSS string holster which everyone seemed to think was a brilliant way for covert operatives to carry a handgun. The OSS string holster and the Versacarry is not a training holster or a range holster. It is a system for carrying your handgun concealed until the time you need to pull it out and use it to save your life. If you are going to the range to train, take a different holster!
As for the rod in the barrel, if you think an undersized plastic rod stuck in your barrel will harm your barrel, then you better stop pushing copper jacketed bullets down the barrel at more than 1000 fps. And, if you think it might get stuck in there and blow your gun up, you have not done your research. Research is something experts are supposed to do, right?
Over the near half-century I've been alive, on several occasions I've spoken about things when I knew nothing of what I was talking about and I looked like a fool for doing it. I don't like looking like a fool so I try to get some information – a lot if possible – before I open my mouth anymore. Dad, as usual, was right!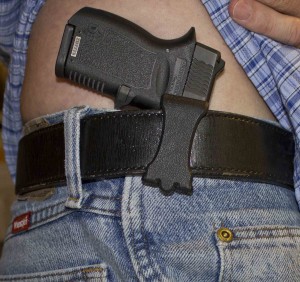 Not liking something is perfectly acceptable. I don't like the .30-06, the .40 S&W and I don't watch Duck Dynasty. Go ahead, hate me if you like. But, running your mouth about something you do not understand or putting it down because it is your competition is like wasting ammo. Maybe some of these gun experts should have had a daddy like mine.
Its OK to keep your mouth shut sometimes; it can keep you from looking the fool.