How are you preparing for the upcoming hunting season? Are you watching hunting television, complaining about how stupid it is? Are you shooting at least once per week from actual field positions? While wearing a Corona mask? No, my guess is that you might have not even checked the zero on your rifle and are just lounging around drinking beer imagining how you're going to whack that big buck at 297 yards, right through the heart.
There are lots of ways to prepare for rifle season, but the best ways involve shooting your rifle. The latest issue of Gun Digest magazine contains an article I wrote about the Rifleman Test, which I think is a great tool for practice and evaluation, and it only takes 20 rounds. I recently shared this article with Bill Wilson of Wilson Combat, and he suggested another drill he calls the Hunter's Field Course.
I tried this drill the other day using my Wilson Combat Protector Carbine, that's outfitted with a Trijicon AccuPoint 1-4X riflescope, and is chambered for the 300 HAMR. I scored 35, which Bill Wilson considers borderline for a Master Hunter. My best score so far was 39, but I cheated; I shot the fourth string at 100 yards instead of 125. (Watch the video)
What's more important than my score – or yours – is that you are actually practicing. If you need to you can even adjust the ranges to say, 25, 50, 75, and 100 yards. The thing is, the more you practice, the better you should get. Here's what you need to run this drill and how Bill Wilson suggests you conduct it:
RESOURCES:
Centerfire hunting rifle with a maximum unloaded weight – with optic – of 10 pounds. Maximum optic magnification is 10X.
20 rounds of ammunition.
Bi-pod/tripod/shooting sticks, suitable for sitting, kneeling, and standing.
Shooting sling if desired.
NRA B-8C target repair center.
Note: You can make your own target with a 3 3/8-inch 10 ring and a 5 ½-inch 9 ring.
Eye and ear protection.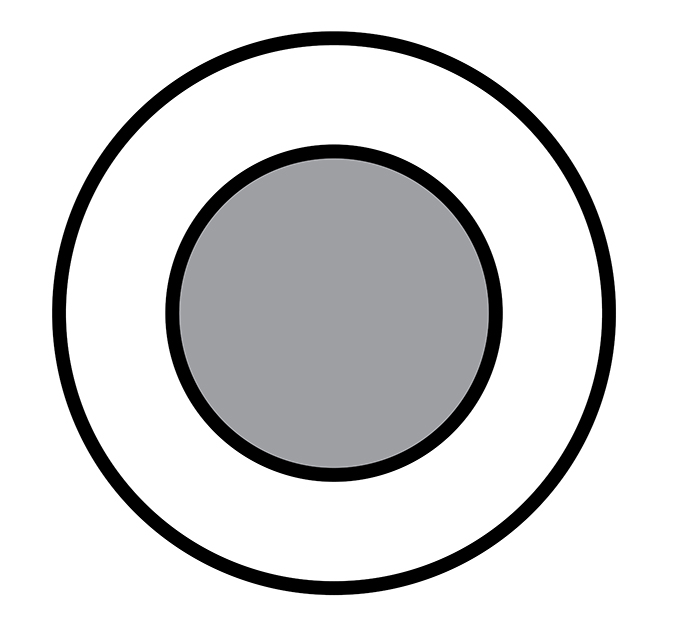 Click HERE for a to-scale, downloadable pdf version of this target. When the page opens, right click the target and select "download linked file"
PROCEDURE:
String #1: Fire 5 shots from the standing unsupported position at 35 yards.
String #2: Fire 5 shots from the standing position using shooting sticks at 60 yards.
String #3: Fire 5 shots from the sitting or kneeling positing using shooting sticks at 90 yards.
String #4: Fire 5 shots from the sitting or kneeling position using shooting sticks at 125 yards.
SCORING:
Hits in the 10/X-ring score 2 points.
Hits in the 9-ring score 1 point.
Hits outside the 9-ring score 0 points.
No time limit per shot, but try to break your shot within 30 seconds to more closely represent hunting.
Maximum score: 40 points.
35-40 Points: Master Hunter
30-34 Points: Expert Hunter
25-29 Points: Proficient Hunter
20-24 Points: Novice Hunter
Under 20 Points: Maybe try golf, shuffle boarding, or solitaire.
SUMMARY:
My only criticism of the drill is the lack of a time requirement. I get that when hunting you sometime have lots of time, but very often you have very little time. I had an African Professional Hunter tell me once that after the animal sees you, you have about seven seconds. That postulate has proven fairly accurate over the years, in Africa and other places.
The first time I ran this drill it took me 127.06 seconds for all four strings of fire. (Each string was timed separately.) That works out to 6.35 seconds per shot. For String 1, I averaged 4.74 seconds per shot, 4.7 for Sting 2, 8.84 for String 3, and 7.11 for String 4. Based on those times and based on my real-world experience, I'd suggest you strive – as a goal – to complete this drill within a total time of 140 seconds, which works out to an average of, seven seconds per shot, just like that savvy old professional hunter suggested.
You could use a shot timer for this, but your watch will work just fine. After all, the primary goal of this exercise is to improve your ability to get good kill-zone hits. You might even not worry at all about time until you are at least scoring in the Master Hunter classification; speed will do you no good unless you can get the hit you need.