Firearms and firearms training is a slow moving train. We are still using, trusting and carrying defensive handguns and cartridges that are over 100 years old. Not only that, the training with these defensive tools, though it has picked up speed in the last 15 years, is still firmly rooted in doctrine established almost 40 years ago. Next to holsters, the most prevalent defensive handgun accessory is the laser sight but few if any firearms instructors are developing cirriculum to address these sights and even fewer know how to do that.
This of course is one reason I wrote the book, Handgun Training for Personal Protection, which by the way would make a great Christmas gift for any shooter. (Forgive me for the selfish plug. but you can buy it HERE direct from Amazon and I'll make about $ 1.00. If you buy it from the Gunsite Pro Shop I still make about $ 1.00 but you get entered to win tuition to a five day class at Gunsite.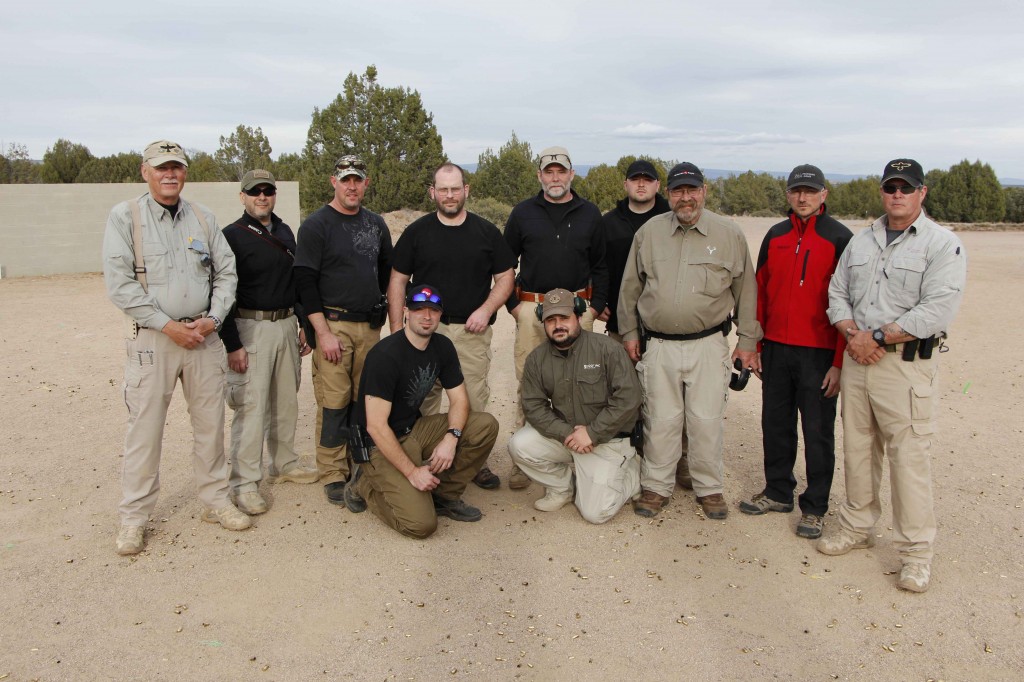 At any rate, after extensive urging both Crimson Trace and Gunsite Academy, and with the support of Dave Starin who is the Gunsite Training Director and Chris Weare who is an instructor at Gunsite, I managed to convince Crimson Trace and Gunsite Academy to work together to develop a laser integrated 250 pistol course. If you attend, you'll get all the respected 250 Pistol Class instruction but it will come with the addition of instruction on the application and limitations of Crimson Trace laser sights.
I'd like to take all the credit for this but the truth is all I really did was complain and bitch to the point I think the two parties had to listen so I would shut up. When all agreed to get on board I worked a bit with Starin and Weare to formulate the program of instruction but those two guys did all the real work. The next step was to hold a training conference where experts throughout the industry came to Gunsite to participate in a test run of the class and to give feedback on how to make it even better.
Those guys were Gary Killingsworth, Kevin Lahart and Lew Danielson from Crimson Trace and Sean Thornton and Tom Monahan who are NRA firearms instructors. In addition to these experts, two firearms journalist who I regard as firearm experts and general good guys at least five days out of every week – Ed Friedman with NRA's Shooting Illustrated magazine and Jorge Amselle who mostly writes for Harris Publications – were there as well. The last member of our panel of experts was Patrol Officer and Police Firearms Instructor Bryan Grimm of the Princeton, WV Police Department. And, well, that's where I have been for the last week and it is why this BLOG has been asleep for all that time.
Hey, I was working on something important.
I'd like to say several things.
1. I was honored to be trusted by Gunsite Academy and Crimson Trace to have been allowed to put this project in motion.
2. It was a pleasure to work with true professionals and send about 8000 rounds down range in four days.
3. I think we have all – at least in a small way – helped Gunsite to, as always, be the leader and to set the standard with regard to firearms instruction.
4. The world now has a source for practical, life saving training with regard to the use of laser sights on a defensive handgun and they have it from the premier firearms training academy in the world.
My suggestion is that if you currently use a laser on your defensive handgun or if you are considering it, contact Gunsite and enroll in the inaugural Crimson Trace / Gunsite Laser Integrated 250 Pistol Class which should be held next spring.
In the mean time, deer season here in West Virginia opens on Monday. My wife, son and daughter all have sights set on shooting a deer and after I get through dragging and skinning their deer, I might get to shoot one too. So, don't be surprised if Empty Cases goes to sleep again for a week, except maybe for some grab and grin photos of my family and some freezer meat.