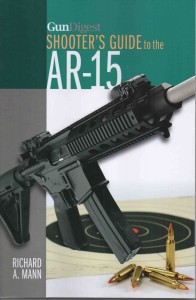 The Shooter's Guide to the AR is Richard Mann's was published by Gun Digest in 2014. This book is intended as a primer for new or prospective AR owners. In the last several years the AR – America's Rifle – as Richard like to call it, has become the most popular firearm in the United States. Many who are experienced with the platform have purchased additional models and at the same time many who have never held one before have acquired one or more as well.
The Shooter's Guide to the AR was complied to provide those who are unfamiliar with the AR with the necessary information for them to become versed in and proficient with the weapon system. Chapters: America's Rifle, The World's Most Versatile Rifle, The AR 10 and the AR 15, Gas Impingement vs. Gas Piston, AR Cartridges and Ballistics, Open Sights, Optical Sights, Common Sense AR Accessories, Manual of Arms, Maintenance, Shooting the AR – Basics, Zeroing the AR, Shooting Positions, Training and Practice Drills, ARs and New Shooters, Build Your Own AR, Handloading the AR, Legality, and Company Profiles.
If you are a new AR owner, if you know a new AR owner or even if you know a gun owner who is not a fan of the AR, this is a great book for them. Not only dose The Shooter's Guide to the AR offer the necessary information to allow a new AR owner to effectively maintain, operate and shoot the AR, it is also chocked full of all the reasons at least one AR should be a part of every gun owners battery.
SPECIAL NOTE: Last year the gun industry lost a good friend who, through his writing and television appearances did a great deal to encourage shooters to give the AR a try. James Guthrie told the AR story better than anyone. Friends and I were hunting in Africa when we learned of his passing. Hurting, we all did what Guthrie would have done, had he been in our shoes: went hunting and we shot stuff. It could only have been better if we had been hunting with ARs and with him…I miss him. This book is dedicated to the unforgettable  Guthrie.
ORDER YOUR COPY NOW – SPECIAL EARLY CHRISTMAS PRICING
LIMITED SUPPLY
(If you would like your copy personalized, e-mail specific instructions after you place your order.)