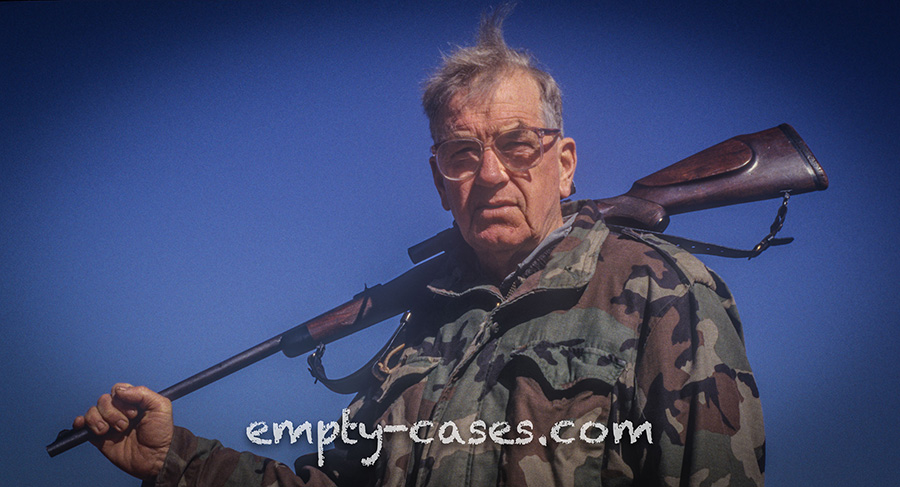 I don't believe in ghosts.
Finn Aagaard was a professional hunter in Kenya from 1970 to 1977. He used several rifles during that time but was very partial to the .375 cartridge and one rifle in particular; a battered and scared .375 H&H, pre 64 Winchester model 70. Finn kept very extensive diaries on every rifle he owned. Finn's journals included every shot fired, every animal taken, and every modification made to the rifles they detail.
The three seven five – serial number 761XX – was purchased by Finn on December 29th, 1969 for 1,200.00 shillings; it had been out on "trail" [loan] to him since the 25th of November. Finn noted in the rifle's journal that the price was "excessive." Finn worked the rifle's trigger and installed a Winchester Super Grade stock. The diary indicates that what appeared to be cross-bolts in the new stock were nothing more than "plastic plugs." Finn replaced these with stove bolts set in resin, bedded the stock and mounted a Weaver K 2.5X scope.
Finn once wrote, "I believe you should have scopes on all your African rifles, even the "heavies." In the dull light of an early dawn for example, with a black buffalo standing in dark bush 100 yards away across a glade, it is far easier to make out exactly where to place your shot with a good low powered scope than with any form of iron sight." He also remarked that on this particular rifle he never used the open sights to fire a single shot at a game animal stating that, "There is nothing that they [iron sights] will do at any range, including charges, that a low power scope won't do as well or better"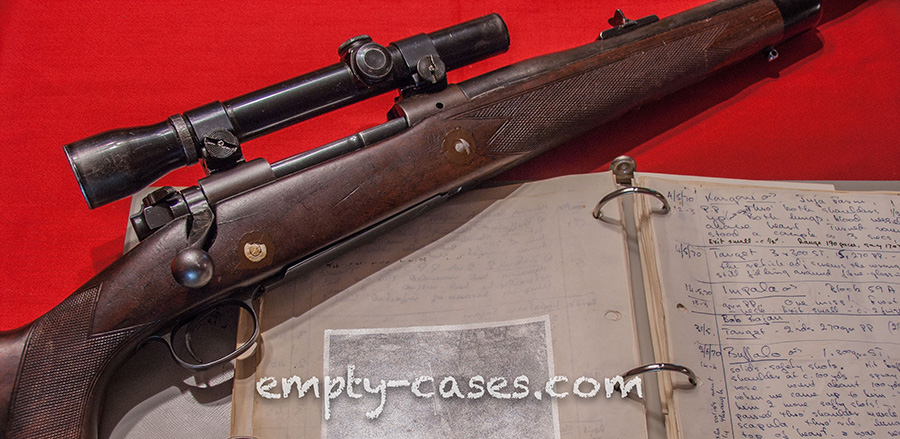 Some years back custom rifle builder Charlie Sisk hosted a rifle clinic at a ranch in Texas. Sisk's clients were wealthy hunters who appreciated fine quality bolt-action hunting rifles and had the money to acquire them. Sisk's clinic was designed to help these hunters become better field shots.
Outdoor writer John Barsness and I helped Sisk with this clinic. I put together and off-hand course of fire where shooters would engage various life-like animals targets near and far, off-hand and from shooting sticks. Barsness worked with the ranch hands and built a charging buffalo target. During the two-day event participants would cycle through these shooting stages and at the end prizes were awarded.
On the last day of the event, after all the competitors had been pushed through my station, I wandered over to see Barsness and his buffalo. After all, that was where all the excitement was. This target charged the shooter from about 40 yards. Pulled by an ATV it reached a healthy velocity. The goal for the shooter was to hit the target as many times as possible before it reached them.
To some extent this was a comedy of errors. The high stress pushed several hunters to the breaking point. They jammed guns, missed the buffalo, and even shot the dirt. They cussed a lot too. For the most part the buffalo target made out OK. Generally, during a charge it would take one good and one bad hit. But, to the credit of those in attendance, it was all in good fun and those who failed got back up and tried it again.
I stood watching the fiasco while talking to Berit Aggard, Finn's widow. Berit has become a dear friend and is one of the most amazing women I've had the pleasure to meet. I once watched her out-shoot a number of experienced men using a borrowed, right-handed bolt-action rifle. (Berit is left-handed.) Berit was holding Finn's old .375 Winchester and suggested I use it to take on the charging buff.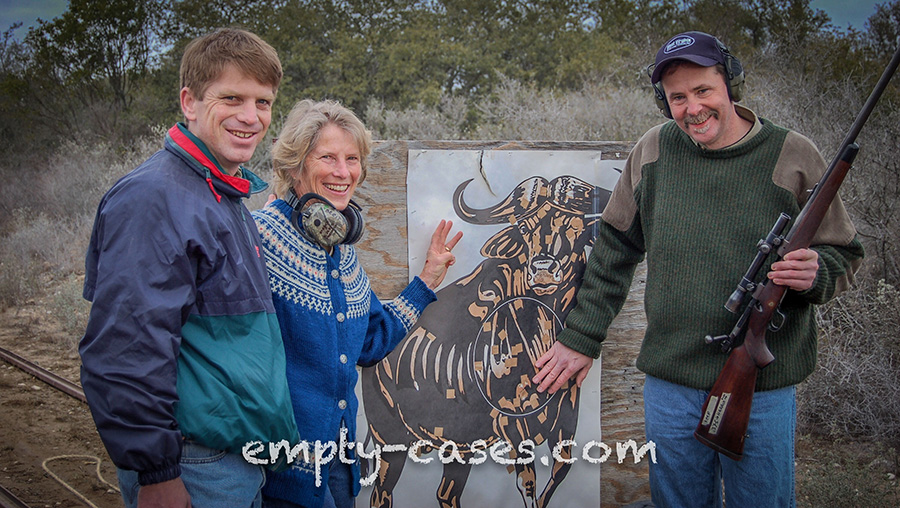 This offer simply could not be refused. When Finn moved to America he became one of the most trusted gun writers of all time. Growing up I hung on every word he penned. His straightforward writing style, which was based on common sense and most importantly field experience, spoke to me. His words were void of conjecture and the continued repeating of gun writer cliché's. I would be lying if I did not admit Finn's writing has influenced mine. I'm not ashamed of that.
I stuffed three thick cartridges into the magazine. Stepped up to the shooting point, cycled the butter smooth action and nodded to Barsness that I was ready. The ATV charged off and the buffalo target came at me. About five seconds later it slammed into the bumper stop and Finn's rifle was empty. Berit, her son, and I stepped over to the target. The event had unfolded before my eyes and at my hands but I was unsure of the result and had no memory of what had occurred. Centered in the chest of the buffalo target were three, .375 caliber holes that formed a group measuring about two inches across.
I'm not bragging about my marksmanship abilities. I cannot shoot that good, haven't since. That rifle is forever connected to the spirit of a man who had stood that ground countless times before. Some associations cannot be broken. Finn's rifle did the shooting, I just held on.
I don't believe in ghosts. Maybe I should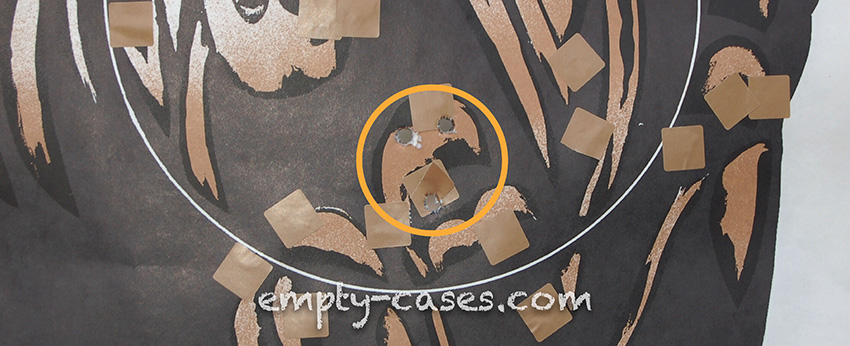 This story is an excerpt from Richard Mann's book, Under Orion. Hunting Stories from Appalachia to Africa.
This is a great book for any hunter and belongs in the throne room of every hunting camp.
You can order autographed copies HERE or unsigned copies HERE and have them just in time for Christmas.